Field of Research
International Relations, Conflict Resolution, Peace Studies
Research Topics
Civil war termination and peacebuilding, Intervention in civil wars
Overview of Research
Wars between nations have been on the decline, but civil wars continue to occur worldwide. Why have civil wars not disappeared? Why does a civil war resume, even when a peace agreement has been signed? Under what conditions would violence against civilians decrease in a civil war? My research focus on civil war termination and peacebuilding, mainly from the perspective of third-party intervention. I am conducting research on how third-party interventions affect the process of civil war termination with the assumption that the third-party is the United Nations (UN) or a third country.
For example, when a third country intervenes, the preferences of the third country itself may differ from those of the target country that is receiving support. In my previous research, I theoretically analyzed the relationship between third-party preferences and power-sharing peace agreements, and verified it using data. Results showed that power-sharing agreements were more likely to occur when a government of a country engaged in civil war, which is unable to compromise on political reform, received support from a democratic country that was interested in the democratization of the target country. However, at times, third-party interventions can have the opposite effect of peace promotion. In my recent research, I used case studies to show that military intervention changed the way anti-government armed groups pursue legitimacy, affected the rebel governance, and resulted in having a negative impact on human security in regions governed by rebel groups in the short-term.
International organizations, such as the UN, also intervene in civil wars. Literature on peacekeeping show that peacekeeping operations could contribute to peace efforts, by reducing violence against civilians in civil wars, preventing conflicts from recurring, and alleviating violence at a local level. My previous joint research has added to this research area. We used data to verify that UN peacekeeping operations contributed to peace by mitigating commitment problems that arose from involuntary and voluntary defections and promoted the implementation of peace agreements.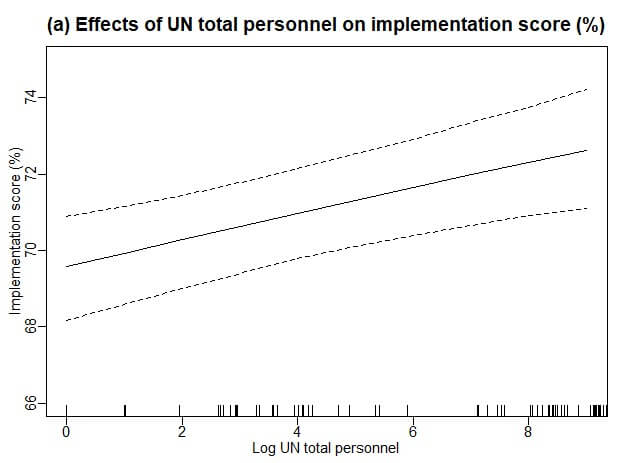 Figure (a). Maekawa, Wakako, Barış Arı, and Theodora-Ismene Gizelis. 2019. "UN involvement and civil war peace agreement." Public Choice 178: 397-416.
Recently, I have been researching post-conflict governance changes through relationships between the deployment of UN peacekeeping operations and the quality of post-conflict elections and its effects. I have also been examining the relationships between Exit strategies of UN peacekeeping operations and sustainable peace as well as the relationships between UN peacekeeping operations and other transnational cooperation such as foreign aid and foreign direct investment.
MAEKAWA, Wakako 
Associate Professor
Degree: Ph.D. in Government(University of Essex)
maekawa.wakako.osipp@osaka-u.ac.jp
| | | |
| --- | --- | --- |
| | Professor | Public Economics |
| | Professor | Global Governance, International Public Administration |
| | Professor | International Politics, Media Studies |
| | | Macroeconomics, Environmental Economics |
| | Associate Professor | Macroeconomics, International Economics |
| | Associate Professor | International Relations, Political Methodology |
| | Associate Professor | Criminology, Urban Sociology, Social Inequality |
| | Associate Professor | Multiculturalism, Liberalism, Migration |
| | Professor | Labor Economics, Applied Econometrics |
| | Associate Professor | International Relations, Conflict Resolution, Peace Studies |
| | Professor | Political Science, Political Economics, Social Epidemiology |
| | Associate Professor | International Relations of East Asia, U.S. Foreign Relations, Cold War |
| | Associate Professor | Psychology and Economics, Industrial Organization, Microeconomic Theory |
| | Professor | History of American Foreign Relations, International History |
| | Associate Professor | International Law |
| | Assistant Professor | Macroeconomics |
| | Professor | Civil Law |
| | Professor | Development Economics |
| | Associate Professor | EU Law |
| | Assistant Professor | Health Economics, Development economics |
| | Associate Professor | International Law |
| | Professor | Economics of Human Resource Allocation, Economics of Human Capital and Organization, Search and Matching Theory |
| | Professor | International Law |
| | Associate  Professor | Financial Econometrics, Finance |
| | Professor | Microeconomic theory |
| | Assistant Professor | Information Network |