Admission
Number of Students to be Admitted per Year
| Type of Course | Master's Course | Doctoral Course |
| --- | --- | --- |
| International Public Policy | 19 | 11 |
| Comparative Public Policy | 16 | 10 |
| TOTAL | 35 | 21 |
Entrance Examination
Students are required to submit a written research proposal and the official score of an English test, and then be interviewed by faculty members. Admission to OSIPP is unlikely if the student does not demonstrate a clear sense of purpose during the interview.
Enrollment for the Master's and Doctoral courses is held in April, although Doctoral students are also permitted to enter in October as well.
Application and Exam Dates
For the 2023/2024 School Year:
Course
Application Period
Exam Date
Doctoral Course
Enrollment in October 2023
June 30-July 4, 2023
August 27, 2023
Doctoral Course
Enrollment in April 2024
June 30-July 4, 2023
December 1-5, 2023
August 27, 2023
February 3, 2024
Master's Course
Enrollment in April 2024
June 30-July 4, 2023
December 1-5, 2023
August 27, 2023
February 3, 2024

Credited Auditor (non-degree student)
For those who wish to enroll in a regular course of OSIPP, we recommend to take advantage of the Credited Auditor System.
Credited Auditors provide the best preparation for students who wish to pursue a master's degree at OSIPP. In particular, for many applicants from overseas, the Credited Auditors System allows them to make effective use of the time between graduation in fall and the start of OSIPP classes in April to prepare for graduate school.
The following are some of the advantages of being a credited auditor
(1) Many of our classes are now offered face-to-face classes in lecture rooms. In the case of online classes, for those who live abroad, the Credited Auditors System allows them to take classes and prepare for graduate school without having to come to Japan.
(2) Students can take classes for as little as one credit, so they can prepare for the master's program while keeping costs low by taking only the classes they need.
(3) Up to 10 credits of Credited Auditors can be transferred to Master's credits after passing the Master's exam, so students can work on their Master's thesis with relatively more time to spare after entering the Master's program. Moreover, early completion system, which shortens the time required to complete a regular course of study (usually two years) to one or one and a half years, can also be used more easily by earning some credits before enrolling.
If you are interested in the Credited Auditors Program, please read the following explanation carefully before applying.
About Credited Auditor
This is a system that allows students to take specific classes in the Master's Course of the Graduate School. If you pass the examinations for the classes you have taken, you will be able to earn credits.
This system is intended for students who intend to enroll in a regular course of OSIPP in the future.
(For foreign nationals)
The status of "Student(Ryugaku) Visa" requires that you study for at least 10 hours per week(In other words, take at least 7.5 classes.). However, since the number of classes allowed for credited auditor is limited to five per semester (six months), it is not possible to meet the "Student" visa requirement of 10 hours or more per week. For this reason, you cannot acquire "Student" status by enrolling as a credited auditor. If you wish to enroll in the Graduate School with a "Student" visa status, please apply as a research student or in a regular course (Master's course or Doctoral course).
(To take classes online)
There are two types of classes: face-to-face classes conducted in lecture rooms and online classes conducted via the Internet. Online classes at OSIPP are basically offered in real time.
If you take online classes, please be sure to check the 「オンライン授業の受講に必要な環境について」(Required Environment for Online Classes) in the application guideline.
Foreign nationals those who will not be coming to Japan to take classes offerd online, please pay the entrance fee and tuition through a representative residing in Japan.
▼Click here for application guidelines and application documents for AY2023 [Credited Auditor] (in Japanese only)
▼Click here for class schedule of AY2023 [Credited Auditor](in Japanese only) *2023.4.12 updated
*When applying, be sure to obtain the approval of the instructor in charge of the class you wish to take in advance and attach a document (e-mail, etc.) confirming the acceptance.
Time of Enrollment
For students taking classes full-year, in the spring and summer semester/term: April
For students taking classes in fall and winter semester/term: October
Application Period for Credited Auditor (AY 2023)
(Admission in April) Tuesday, February 7, 2023 – Monday, February 13, 2023

(Admission in October) Tuesday, July 18, 2022 – Monday, July 24, 2023
*If you wish to apply for classes offered in the spring and summer semester, as well as classes offered in the fall and winter semester, please apply for both during the April application period as much as possible.
Mailing Address
1-31 Taikaneyamacho, Toyonaka-shi, Osaka 560-0043, Japan
Graduate School of International Public Policy, Osaka University
If you have any questions about application procedures, please refer to the application guidelines above and contact us by e-mail.
Research Student (non-degree student)
The research student system enables students to attend OSIPP in order to conduct further study in their field of interest prior to becoming a regular graduate student. Students do not receive a degree, but based on consultation with their advisor, may be allowed to attend classes and participate in OSIPP activities.
Applying to OSIPP as a Research Student (Kenkyusei)
The full process of applying to OSIPP as a research student can be seen below.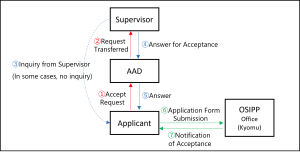 Applicants must meet one of the following requirements
Applicants who have graduated (earned a Bachelor's degree) or expect to graduate from a university (earn a Bachelor's degree) before the date of enrollment.

Applicants must have been recognized by OSIPP as possessing academic abilities equal or superior to those of university graduates through an individual entrance screening.
※Applicants who are fulfilling the application requirement (2) must undergo 'Screening of Qualification for Application' prior to application. Please mention that you are applying for the screening when you request approval of your  supervisor through the following AAD procedure.
Applicants must obtain approval from a supervisor at OSIPP prior to application
In order to get approval, you are required to provide us with the documents and information listed below via AAD system during the following period.
https://www.ryumon.osaka-u.ac.jp

【For applicants of OSIPP research students】How to go through the AAD online procedure (in Japanese)
– For Enrollment in April 2024: From January 4, 2024 to January 12, 17:00, 2024
(Applicants who live abroad: From October 30, 2023 to November 10, 17:00, 2023)
– For Enrollment in October 2024: From July 10, 2024 to July 19, 17:00, 2024
(Applicants who live abroad: From May 1, 2024 to May 10, 17:00, 2024)
Applicants will be informed via AAD System whether the approval is given or not.
Documents we require from applicants
   Please choose up to two supervisors from our website and write the name(s) in the message column in the AAD system. Please make clear the first choice and the second choice.
State ment of purpose and Research Plan(designated form)


-"(3)Research Plan" should be about 2,000 characters in Japanese. The other contents can be brief.

A copy of Academic Transcript(s) 

University Graduation Certificate(s), or Certificate of Expected Graduation
-Students who graduated from foreign university must submit the "Degree Certificate", too.
Method of support to meet the expenses while in Japan (designated form: PDF & Word –only for foreigners).Please remember to submit evidential documents. (Ex. Certification of Deposit/Annual income)

A copy of Japanese-Language Proficiency Test Certificate (Optional)

A copy of Certificate of Residence ("Juminhyo no Utsushi" issued by city)

A copy of proof that you engage in activity that is permitted under your status of residence (Only for foreigners who are residing in Japan at the time of application).




(Ex. Student Registration Certificate of Japanese-language school)

The following items are only for  applicants from CHINA;
教育部学歴証書電⼦注冊備案表
中国⾼等教育学⽣信息網(学信網)https://www.chsi.com.cn にて、<既卒者>は「教育部学歴証書電⼦注冊備案表」を、<卒業⾒込者>は「教育部学籍在線験証報告」を申請すること
中国学位電⼦認証報告学位網
学位網 https://xwrz.chsi.com.cn/account/login.html にて「中国学位電⼦認証報告」を申請すること
Application Guide for Research Students in 2024(written in Japanese) 
Matriculation Fee (as of 2023)
| | Application Fee | Enrollment Fee | Tuition Fee |
| --- | --- | --- | --- |
| Doctoral Course, Master's Course | 30,000JPY | 282,000JPY | 535,800JPY/year |
| Research Student | 9,800JPY | 84,600JPY | 28,900JPY/month |
| Credited Auditor | 9,800JPY | 28,200JPY | 14,400JPY/credit |