OSIPP has designed a unique educational program that enables it to graduate professionals capable of taking the initiative to address issues worldwide.
Some of OSIPP's Attractive Points
Flexible Curriculum
OSIPP's curriculum is designed to accommodate the needs of a diverse student body.
Subjects designed to prepare students for careers at international organizations, as experts in international cooperation, and so on.
International Administration, Economic development, Public Economics, Healthy Environment, and the WTO, Diplomacy, Theory and Practice of International Security-Security in the Asia-Pacific, Peace-building, and others.
Credit transfer system

Students are able to earn credits from other Osaka University graduate schools such as the Graduate School of Law and Politics and Graduate School of Economics as well as other institutions with which OSIPP has concluded agreements, including Kyoto University and Kobe University.

Course hours

Classes are also offered in the form of intensive courses.

October doctoral course admission

OSIPP offers October admission for the doctoral course in recognition that the academic year begins in fall in many countries and to accommodate the increasingly hectic pace of contemporary life. Entrance examinations for October admission are offered in the fall, while entrance examinations for April admission are offered in the winter.

Early course completion

While the master's course normally requires a minimum of two years of study and the doctoral course requires three years of study, students in either course with exceptional performance may earn their degree after at least one year of enrollment (under the school's early graduation program).
Varied and Unique Class Offerings
OSIPP offers an extensive selection of classes with an emphasis on an international , interdisciplinary, practical approach. Broadly speaking, classes can be divided into four types.
Basic classes that affirm students' grasp of the foundations of law, political science, and economics. OSIPP students come from a variety of undergraduate backgrounds, and these courses are designed for students who may be unsure of their undergraduate foundation.
Highly specialized classes that address a single theme.
Interdisciplinary classes that demand a multifaceted approach.
Practical classes of a participatory nature. These courses help students develop practical skills such as negotiation, debate, leadership, and an ability to participate in an internship.
Diverse Academic Staff
OSIPP has put together a diverse academic staff consisting of professionals who are at the forefront of their fields. In addition to working with graduate School of Law and Politics, Law School, Graduate School of Economics and Institute of Social and Economic Research, OSIPP is noteworthy for actively inviting outside staff to teach courses. Professional staffers from international agencies and ministries of the Japanese government, diplomats, journalists, think tank researchers, entrepreneurs, and others offer instruction based on their varied experiences.
Dynamic Students
Students who gather at OSIPP exhibit the following characteristics.
First, they represent a variety of fields, backgrounds, ages and research interests. The School has many international and adult students, and fertile cross-pollination engendered by diversity serves as the driving energy at OSIPP. Second, they exhibit a clear awareness of various issues and a high level of motivation. Third, they are agile and action-oriented. They participate in internships, study abroad programs, fieldwork, NGO/NPO activities, and other opportunities. Fourth, they actively express their own thoughts and opinions. OSIPP strives to help students develop their presentation skills.
Generous Thesis Guidance
At OSIPP, students receive generous guidance in the writing of their thesis, the culmination of their learning experience at the School. For example, students preparing their Master's thesis start by writing a first draft during the second half of their second year and deliver a public oral presentation to three reviewers. At the presentation, students are evaluated on the basis of both their presentation skills and the content of their thesis. Students review their thesis based on the advice they receive during the presentation, and degrees are conferred following a final review and a decision by the Faculty Meeting.
Well-equipped Education and Research Environment
OSIPP provides an environment where students can focus on learning and research, complete with its own Library, Network Center, graduate student study rooms, and a nursery room (the Hope Room). Students can access specialized databases and electronic journals to which Osaka University subscribes from the School's computer terminals, allowing them to gather sources efficiently. Some of these resources can also be accessed from home.
Students also have the opportunity to present their research findings in International Public Policy Studies, the Journal of the Association for International Public Policy Studies (published twice annually), and in OSIPP Discussion Papers.
Making the Most of Life & Study at OSIPP | Osaka University
OSIPP's home is at OU's Toyonaka Campus. Osaka University has 3 campuses, one in each of the cities of Suita, Toyonaka, and Minoh. Additionally, there are major transportation hubs in the same general area, Osaka International Airport, a major highway junction ("Suita") shared by 3 Kansai expressways, and Shin-Osaka Station (a train station that also provides service for the bullet trains and the Osaka subway system). All three campuses are in quiet residential areas adjacent to and serviced by the Osaka Monorail lines.
See Access Maps for all OU Campuses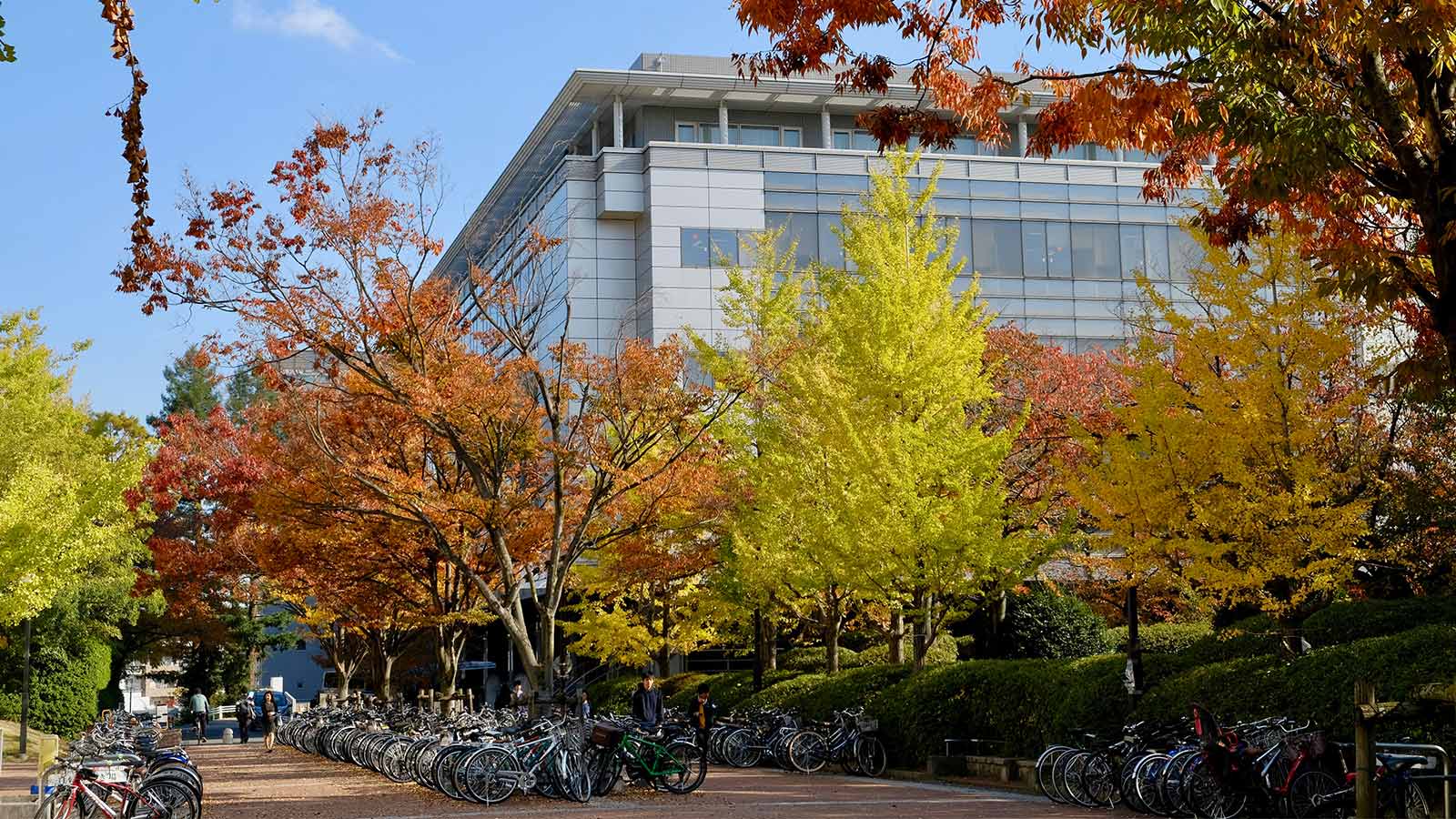 The Toyonaka Campus
OSIPP ls located at the Toyonaka campus is on a hill so its just a gentle slope climb away from the nearest stations: Ishibashi (Hankyu Takarazuka Line) or Shibahara (Osaka Monorail). There is also a shopping area in front of Ishibashi station. All the campuses are linked with the Inter-Campus Shuttle Bus during term times, and the Osaka Monorail.
The Toyonaka Campus is home to nine of Osaka University's School/Graduate Schools.
Inter-Campus Shuttle Bus Service
A free shuttle bus service between the three campuses – Toyonaka,  Minoh-Semba and Suita  – is available.
Students and faculty and staff members can use these buses for attending classes, participating in extracurricular activities, and education and research-related activities on other campuses; however neither can use them for commuting.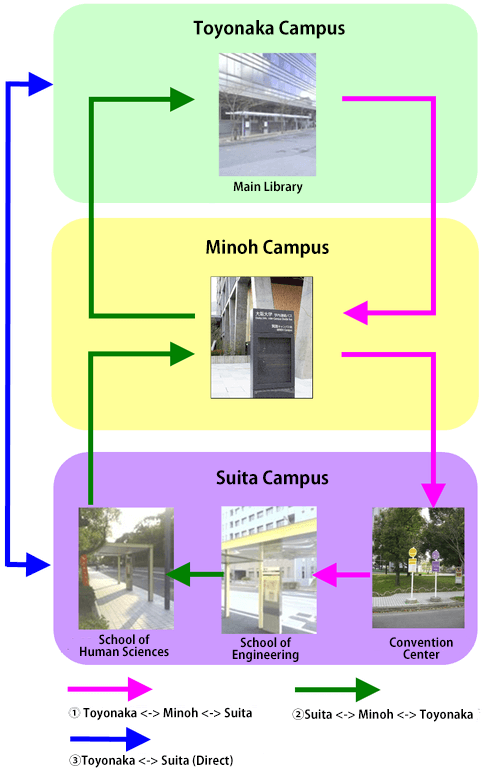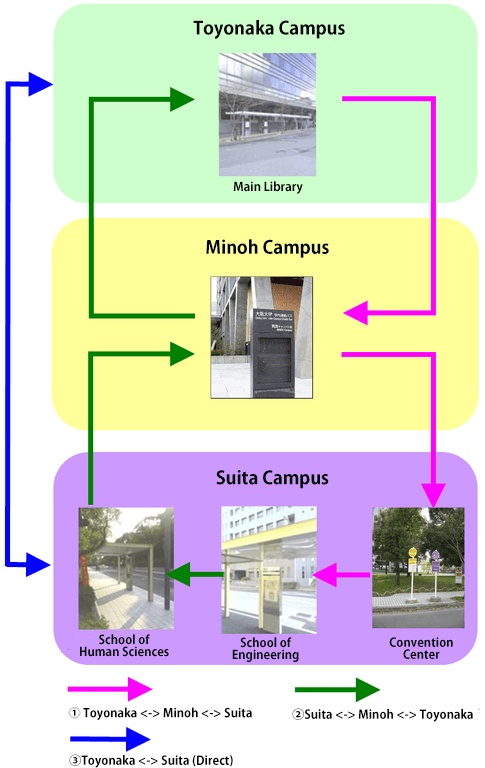 Toyonaka – Suita (direct) 30 minutes

Toyonaka – Minoh: 20 minutes

Toyonaka – Suita via Minoh (40 minutes)
See the Latest Bus Timetable on the OU Website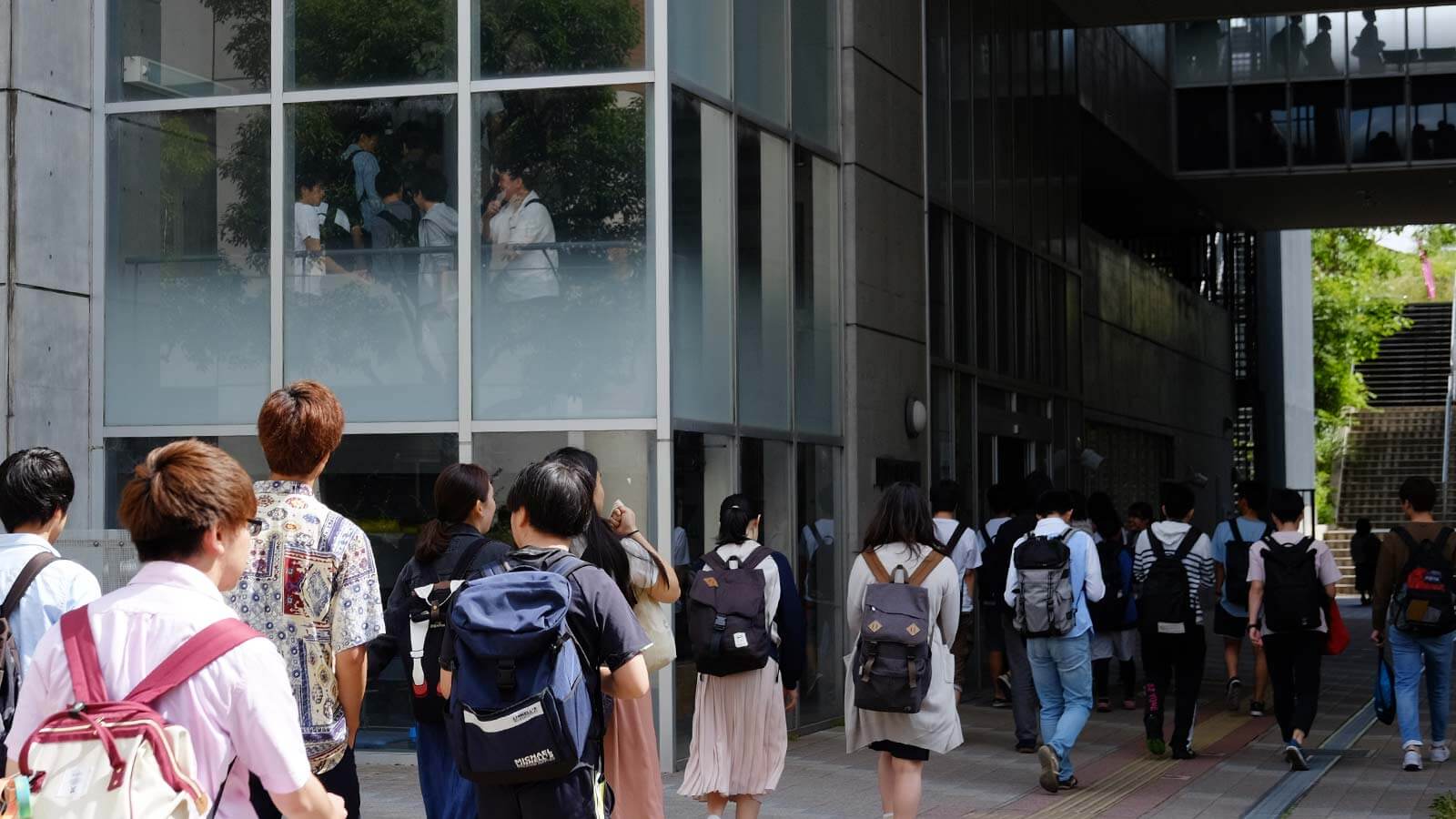 Health and Counseling Center
The Health and Counseling Center is divided into two divisions, the Health Care Center and the Counseling and Support Division, to provide health and counseling services to help students solve their problems and also provides support for their extra-curricular social activities. The Counseling and Support Division consists of three units: Student Disability Services, Student Counseling and Consultation Services, and Career Development Services.
The Center also works in coordination with the Harassment Counseling Offices, the Center for Education in Liberal Arts and Sciences, and schools.
CIEE
The Center for International Education and Exchange (CIEE) has three offices: main office on the Suita campus and branch offices on Toyonaka and Minoh campuses. CIEE provides international students seeking jobs in Japan with job counseling services and job hunting information. It also provides Japanese Language Programs and serves as a coordinator for short-term programs such as OUSSEP.
The Information Room for International Students (IRIS) in the CIEE provides information about financial aid, housing, international exchange activities, and more.
See Osaka School of International Public Policy on YouTube
The Experience of Osaka University