Field of Research
Political Science, International Relations, Conflict Studies
Research Topics
Theoretical and quantitative analysis about armed conflict
Overview of Research
Bargaining theory of conflict
In conventional accounts, we often hear "people in Hong Kong started protests because they are dissatisfied with the non-democratic government" or "Russia invaded Ukraine because Putin wanted Crimea." Bargaining theory of conflict, which has been developed for the last decades, suggest these accounts are naively imperfect and potentially misleading, as they lack strategic thinking. That is, without understanding how a governor or government will react to people's dissatisfaction or enemy's geo-political ambition and why they fail to resolve those problems peacefully, we cannot fully understand the causes of the conflict. In a research project, I conduct one of the first extensions of the bargaining theory to electoral politics, especially focusing on the effect of electoral participation on protests in India.
Causal inference
When can we say X causes Y? For instance, if massive deforestation follows the onset of a civil war, can we say the civil war caused the deforestation? No necessarily. Indeed, it is still possible that if it were not for the war, the country might have experienced economic growth, resulting in higher demands for timber and hence even worse deforestation. Then, rather counterintuitively, the war might have actually protected forests from human influences. In a project, I address this problem by applying a statistical method―so-called synthetic control―to the case of the "Great War of Africa" and resultant deforestation in Congo.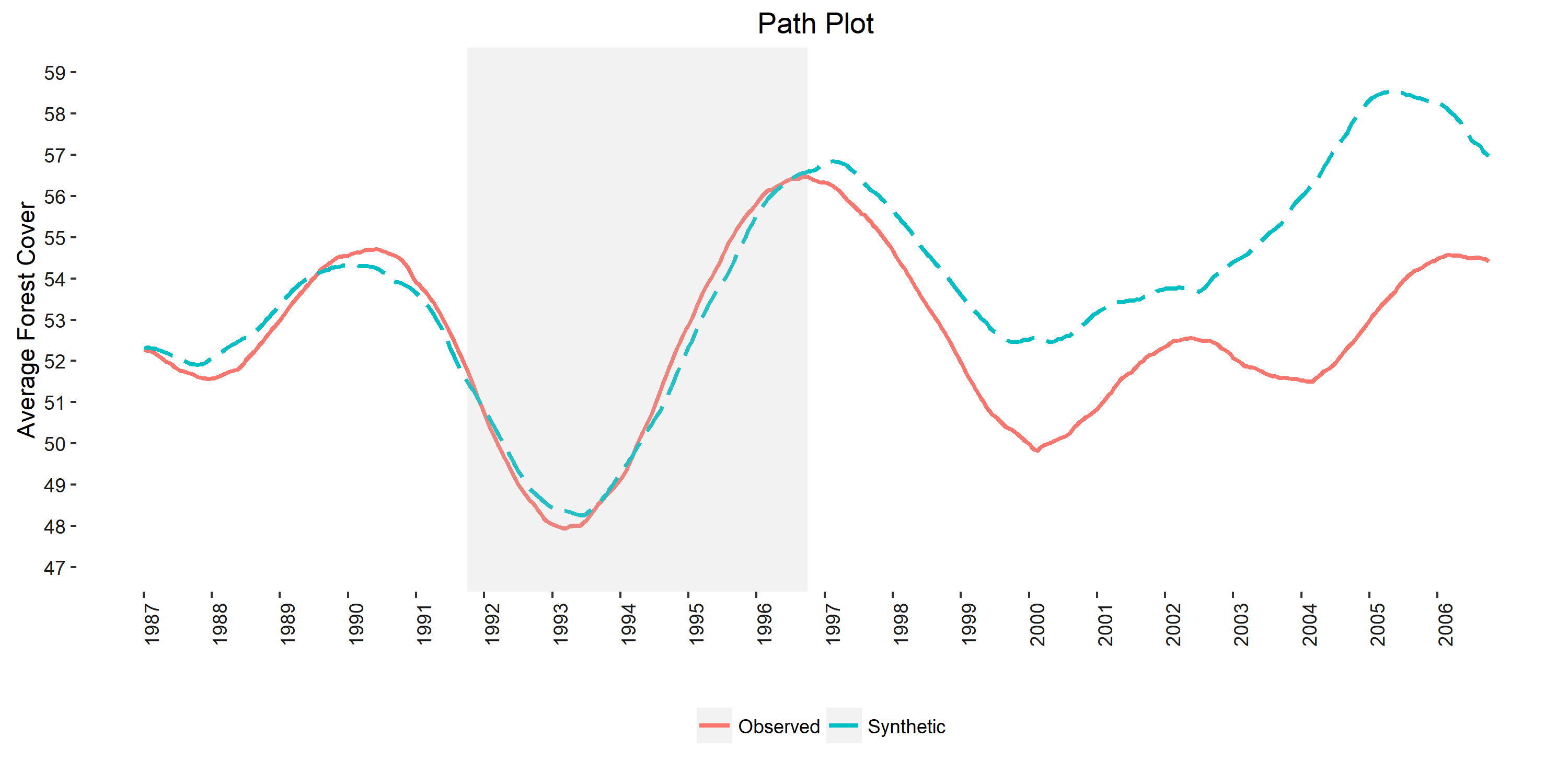 GIS data
The recent development of the Geospatial Information System (GIS) allows us to access a huge amount of data on various topics. How can we use those data and techniques for better understandings on conflict? In a project, I combine the GIS data of armed conflict with a machine learning technique to map the "zones" of armed conflict. The new map allows us to easily locate the places of armed conflict with a potential application to, say, travel advisory.
To prospective students
Thank you for your interest in my research! I hope you will come to the OSIPP and discover how "fun" political science is. If you are willing to apply for the graduate or pre-doc program and have me as a supervisor, please email me a paper (English; A4 size; double spaced; one or two pages) with your reactions to the following article;
Mearsheimer, John J., and Stephen M. Walt. 2013. "Leaving Theory behind: Why Simplistic Hypothesis Testing Is Bad for International Relations." European Journal of International Relations 19 (3): 427–57.
If you have completed any course about data science or game theory, please also tell me the names of the courses and your grades. Again, thank you so much for your interest!
KIKUTA, Kyosuke 
Associate Professor
Degree: Ph.D. in Political Science (The University of Texas at Austin)
kikuta@osipp.osaka-u.ac.jp
| | | |
| --- | --- | --- |
| | Professor | Public Economics |
| | Professor | Global Governance, International Public Administration |
| | Professor | International Politics, Media Studies |
| | Professor | International Politics, United Nations Studies |
| | | Macroeconomics, Environmental Economics |
| | Associate Professor | Macroeconomics, International Economics |
| | Associate Professor | International Relations, Political Methodology |
| | Associate Professor | Criminology, Urban Sociology, Social Inequality |
| | Associate Professor | Multiculturalism, Liberalism, Migration |
| | Professor | Contemporary German Politics, Peace Studies |
| | Professor | Labor Economics, Applied Econometrics |
| | Associate Professor | International Relations, Conflict Resolution, Peace Studies |
| | Professor | Political Science, Political Economics, Social Epidemiology |
| | Associate Professor | International Relations of East Asia, U.S. Foreign Relations, Cold War |
| | Associate Professor | Psychology and Economics, Industrial Organization, Microeconomic Theory |
| | Professor | History of American Foreign Relations, International History |
| | Associate Professor | International Law |
| | Assistant Professor | Macroeconomics |
| | Professor | Civil Law |
| | Professor | Development Economics |
| | Associate Professor | EU Law |
| | Assistant Professor | Macro Economics |
| | Assistant Professor | History of U.S. Foreign Relations |
| | Associate Professor | International Law |
| | Associate Professor | Empirical Industrial Organization |
| | Assistant  Professor | Development Economics, Health Economics |
| | Professor | Economics of Human Resource Allocation, Economics of Human Capital and Organization, Search and Matching Theory |
| | Professor | International Law |
| | Assistant Professor | Information Network |