Field of Research
Macro economics
Research Topic
Pricing mechanism in real estate market
Overview of Research
The focus of my recent research has been on demographic factors as determinants of land prices. Given that the supply of land is limited, the demand for land changes as the population changes, leading to land-price fluctuations. Furthermore, since demand for land is considered high among a certain age group, land demand may change as demographics change. Therefore, it is necessary to examine whether the ratio of the working-age population (or the elderly population) to the total population affects land prices. If we look at the share of the working-age population (population age 15-64/total population) and the share of the elderly population (population age 65 and over/total population) in Japan (Figure 1) from 1955 to 2018, we see that while the former is M-shaped and has been declining since the early 1990s, the latter has been rising steadily.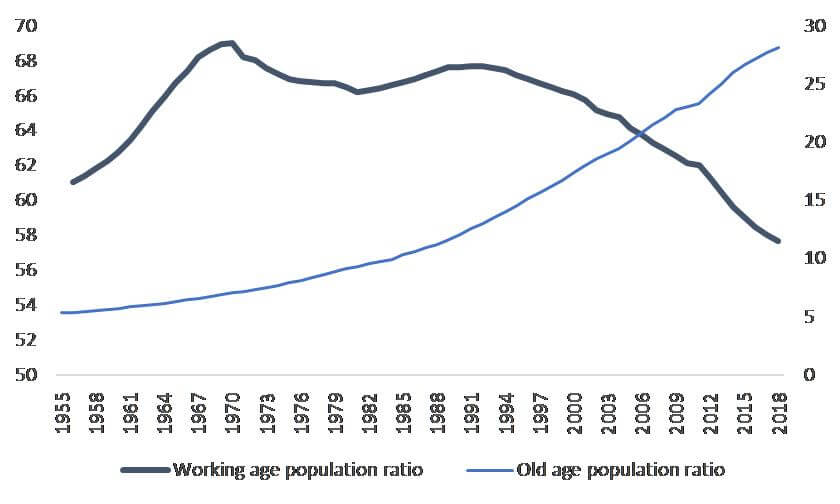 Next, if we look at the relationship between population and land price based on the cross-section data by prefecture (as of 2018), we see a positive correlation between the share of the working-age population and land price, and a negative correlation between the share of the elderly population and land price (figures 2 & 3). Empirical analysis using prefectural panel data based on a model incorporating the demographic factor reveals that the decline in the share of the working-age population has led to a significant decline in land prices since the late 2000s (Shimizu, Saita, Inoue [2019]).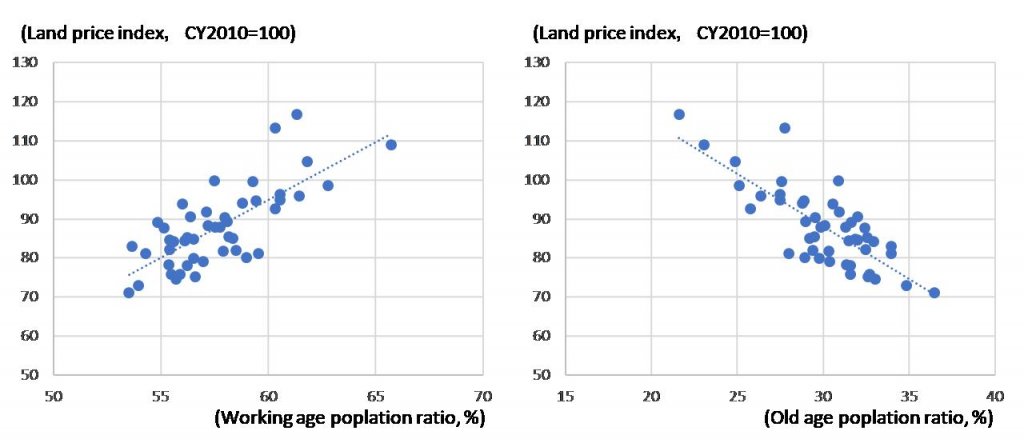 Message to Students
Since the global financial crisis triggered by the shock of the 2008 Lehman Brothers collapse, it has been recognized that the impact of real estate prices on the real economy channeled through the financial system has been enormous, and it has become apparent that "macroeconomics" had not been able to fully capture such a mechanism. In other words, there is much scope for research. Goods transacted in the real estate market (land and buildings) are highly heterogeneous, unlike general goods; in other words, land/buildings with the same specifications hardly exist, so it is difficult to create a price index. In recent years, active efforts have been made worldwide to improve construction price statistics. If the price index is distorted, we cannot discuss the policy. The shortage of statistical experts has come to be recognized as a serious problem in Japan. I hope that you will be interested in the world of statistics as well as economics.
Reference
Shimizu, Chihiro, Yumi Saita, Tomoo Inoue (2019) "Fundamentals of the Real Estate Market," Financial Research Center, Financial Services Agency, Discussion Paper DP2019-4 (in Japanese)
SAITA, Yumi 
Assistant Professor
Degree: Ph.D. in Economics (Hitotsubashi University )
saita@osipp.osaka-u.ac.jp
| | | |
| --- | --- | --- |
| | Professor | Public Economics |
| | Professor | Global Governance, International Public Administration |
| | Professor | International Politics, Media Studies |
| | | Macroeconomics, Environmental Economics |
| | Associate Professor | Macroeconomics, International Economics |
| | Associate Professor | International Relations, Political Methodology |
| | Associate Professor | Criminology, Urban Sociology, Social Inequality |
| | Associate Professor | Multiculturalism, Liberalism, Migration |
| | Professor | Labor Economics, Applied Econometrics |
| | Associate Professor | International Relations, Conflict Resolution, Peace Studies |
| | Professor | Political Science, Political Economics, Social Epidemiology |
| | Associate Professor | International Relations of East Asia, U.S. Foreign Relations, Cold War |
| | Associate Professor | Psychology and Economics, Industrial Organization, Microeconomic Theory |
| | Professor | History of American Foreign Relations, International History |
| | Associate Professor | International Law |
| | Assistant Professor | Macroeconomics |
| | Professor | Civil Law |
| | Professor | Development Economics |
| | Associate Professor | EU Law |
| | Assistant Professor | Health Economics, Development economics |
| | Associate Professor | International Law |
| | Professor | Economics of Human Resource Allocation, Economics of Human Capital and Organization, Search and Matching Theory |
| | Professor | International Law |
| | Associate  Professor | Financial Econometrics, Finance |
| | Professor | Microeconomic theory |
| | Assistant Professor | Information Network |