Field of Research
Economic Development, Political Economy,  Experimental Economics
Research Topics
Understanding the process of economic development in relation to state development
Understanding how external factors affect an individual's preference, belief, and behavior
Overview of Research 
1. Understanding the process of economic development in relation to state development
How have some countries become more economically developed than others? I conduct empirical analysis primarily using historical data from Europe and Japan to tackle the question. One of the goals of this research is to derive policy implications for developing countries.
Q. How did Europe become wealthy?
Looking at the current maps of China and Europe, we notice that China is more unified, while Europe is more fragmented. Some scholars argue that competition among European states has made the region more prosperous. In our study, using GIS data, we examine the role of geography in the fragmentation of Europe's states and long-run development. We find that borders are often located in rugged and mountainous terrain, along rivers, and where it rains a lot. Moreover, we find that areas with higher "border frequency" (defined below) tend to have higher economic activity today.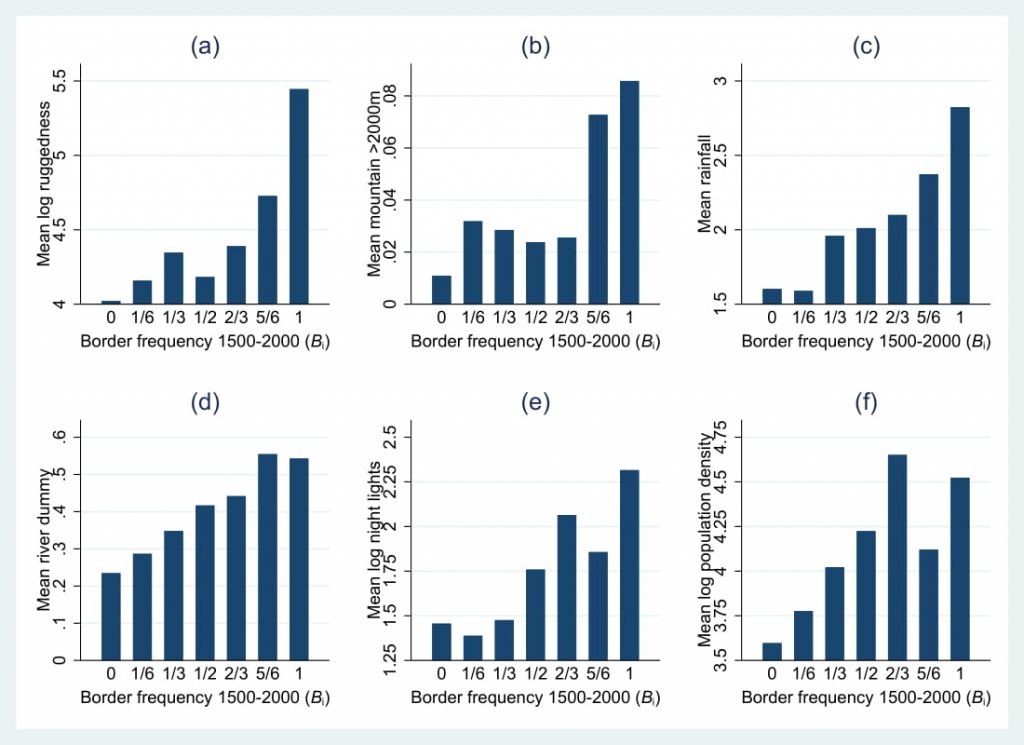 The histograms summarize these findings. The x-axis of each histogram is border frequency, as measured by the frequency in which a cell in a digital map had a border at the turn of each century between 1500 and 2000. Panels (a) through (d) show the relationship between geography and borders, while panels (e) and (f) show the relationship between borders and modern economic activity as measured by night lights and population density.
2. Understanding how external factors affect an individual's preference, belief, and behavior
How are individuals influenced by external factors, such as information from mass media, or high temperature? My co-authors and I use field and lab experiments to study various mechanisms.
KITAMURA, Shuhei 
Associate Professor
Degree: Ph.D. in Economics (Stockholm University)
kitamura@osipp.osaka-u.ac.jp
| | | |
| --- | --- | --- |
| | Professor | Public Economics |
| | Professor | Global Governance, International Public Administration |
| | Professor | International Politics, Media Studies |
| | Professor | International Politics, United Nations Studies |
| | Associate Professor | Macroeconomics, International Economics |
| | Associate Professor | Criminology, Urban Sociology, Social Inequality |
| | Associate Professor | Multiculturalism, Liberalism, Migration |
| | Professor | Contemporary German Politics, Peace Studies |
| | Associate Professor | Political Science, International Relations, Conflict Studies |
| | Associate Professor | Economic Development, Political Economy, Experimental Economics |
| | Professor | Labor Economics, Applied Econometrics |
| | Professor | Political Science, Political Economics, Social Epidemiology |
| | Professor | International Politics, Conflict Studies |
| | Professor | Labor Economics, Economics of Education, Human Resource Management |
| | Professor | International Law |
| | Associate Professor | Modern East Asia, U.S. Foreign Relations, International History |
| | Professor | International Law |
| | Associate Professor | Psychology and Economics, Industrial Organization, Microeconomic Theory |
| | Professor | History of American Foreign Relations, International History |
| | Associate Professor | International Law |
| | Professor | Civil Law |
| | Professor | Development Economics |
| | Associate Professor | EU Law |
| | Assistant Professor | Macro Economics |
| | Assistant Professor | Macro Economics |
| | Associate Professor | Empirical Industrial Organization |
| | Professor | Economics of Human Resource Allocation, Economics of Human Capital and Organization, Search and Matching Theory |
| | Associate Professor | International Law |
| | Professor | Contemporary History of U.S. Foreign Relations |
| | Professor | Public Economics, Policy Evaluation, Empirical Studies on Education, Health, International Cooperation and Social Capital |
| | Assistant Professor | Information Network |
| | Assistant Professor | Comparative Politics, Welfare States, Social Policy |
| | Assistant Professor | Urban, Regional, and Spatial Economics |