Field of Research
Applied Microeconometrics
Research Topic
Price index, Consumption, and Health
Overview of Research
My research interests lie at the intersection of consumption, price, and health economics. For example, when people need to improve their dietary habits or other health-related behaviors, what approaches are most effective? Is government intervention and/or individual's strong intention (e.g., telling oneself "I'm absolutely not going to eat any more junk food!") indispensable for behavioral change related to health?
The study of health is not limited to healthcare-related fields, such as nutritional epidemiology. Rather, it is also a field where the framework of economics can be fully utilized. This is because an individual must use their limited resources of time and money to undertake activities to become healthier. In other words, the study of incentives in economics may provide significant clues to suggest ways to improve dietary habits and other health-related behaviors. One such incentive is "price." For a person with very limited income, the quickest way to obtain calories they need may be to eat cheap foods that are high in fat. However, this would ignore the fact that eating such foods, which are also low in nutrients, will negatively affect the person's health. Therefore, it can be expected that food prices will have a significant impact on people's health.
By the way, is fat the cheapest food to eat? Inakura, Abe, Ibuka, and Moriguchi (2019) present the changes in real prices for nutrients (calories, carbohydrates, proteins, fats, and dietary fiber). Over the last 40 years in Japan, it is observed that the prices of fats have significantly declined and, conversely, the prices of dietary fiber have risen.
We are inundated with information related to health and dietary habits every day because they are familiar issues with all of us. I believe it is necessary to gather information and objectively evaluate it to form our opinions to avoid being biased by groundless hearsay and preconceptions.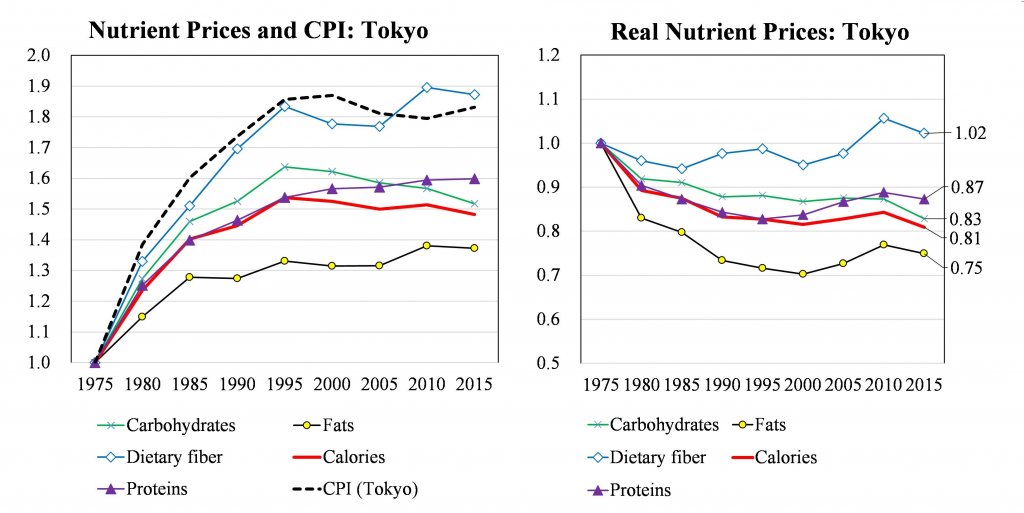 INAKURA, Noriko 
Assistant Professor
Degree: Ph.D. in Economics (University of Tsukuba)
inakura@osipp.osaka-u.ac.jp
| | | |
| --- | --- | --- |
| | Professor | Public Economics |
| | Professor | Global Governance, International Public Administration |
| | Professor | International Politics, Media Studies |
| | Associate Professor | Macroeconomics, International Economics |
| | Associate Professor | Criminology, Urban Sociology, Social Inequality |
| | Associate Professor | Multiculturalism, Liberalism, Migration |
| | Professor | Contemporary German Politics, Peace Studies |
| | Associate Professor | Political Science, International Relations, Conflict Studies |
| | Associate Professor | Economic Development, Political Economy, Experimental Economics |
| | Professor | Labor Economics, Applied Econometrics |
| | Professor | Political Science, Political Economics, Social Epidemiology |
| | Associate Professor | Administrative, Environmental, Natural Resources, Water, Land Use and Energy Law |
| | Professor | International Politics, Conflict Studies |
| | Professor | Labor Economics, Economics of Education, Human Resource Management |
| | Professor | International Law |
| | Associate Professor | Modern East Asia, U.S. Foreign Relations, International History |
| | Professor | International Law |
| | Associate Professor | Psychology and Economics, Industrial Organization, Microeconomic Theory |
| | Professor | History of American Foreign Relations, International History |
| | Professor | Civil Law |
| | Professor | Development Economics |
| | Associate Professor | EU Law |
| | Assistant Professor | Macro Economics |
| | Assistant Professor | Macro Economics |
| | Associate Professor | Empirical Industrial Organization |
| | Professor | Economics of Human Resource Allocation, Economics of Human Capital and Organization, Search and Matching Theory |
| | Associate Professor | International Law |
| | Professor | Contemporary History of U.S. Foreign Relations |
| | Professor | Public Economics, Policy Evaluation, Empirical Studies on Education, Health, International Cooperation and Social Capital |
| | Assistant Professor | Software Engineering |